2022 EV6 GT-L RWD, 1973 Triumph TR6
Could you link any such videos you know of? I've been wondering this and can't seem to find any. I'm also not convinced there's a way to test it accurately enough to say (without getting into the internals more deeply than a typical driver), since measurement uncertainties are all comparable to how different the battery size would be, up or down, depending on whether the rating is usable vs gross. I guess you could drive continuously from 100% to 0% and see what Kia Connect says the total trip energy was - ~77.4 or <77.4. Assuming that metric is more accurate than the few % the net-gross spread would be.

The only thing I know for sure is that there's a bit of a buffer on both the high and low side, since you can drive past 0% and at 100% the cell voltage is more like 4.1 rather than 4.2V.
Check out this discussion, particularly, the link in my post. It talks about the gross vs net of the 77.4 kWh battery pack.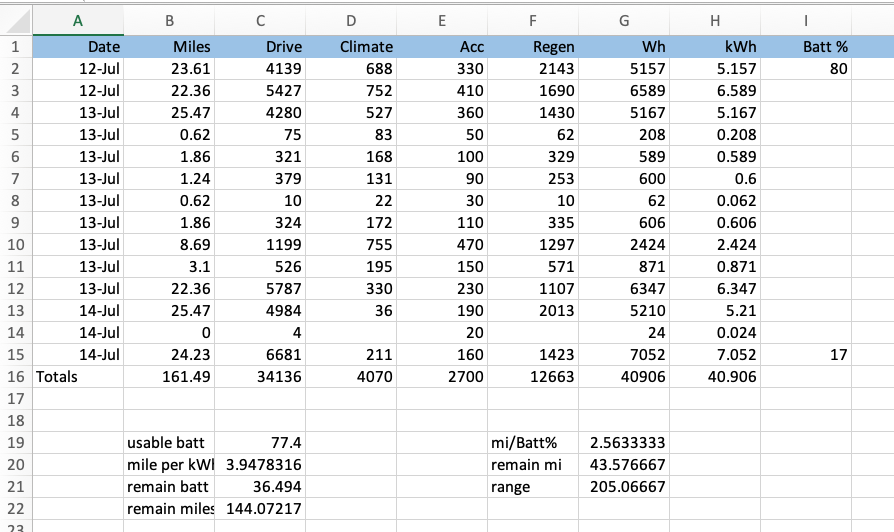 Hi all, Wondering if someone can help me understand what the car is telling me and what I'd like to know about the consumption and range. Below is data from the past few days (source is the My Trips section of the KIA Connect app). I charged the car up to 80% on Monday the 11th with the trips...
www.kiaevforums.com
Also, an OBD adapter with Car Scanner Pro, yes, the paid upgrade, will show the difference between displayed SoC vs BMS SoC.